Why is Diksha obligatory for a disciple ?
What are the fundamental basics of a Diksha ?
What is the significance of the various Dikshas ?
Which Diksha should I take ?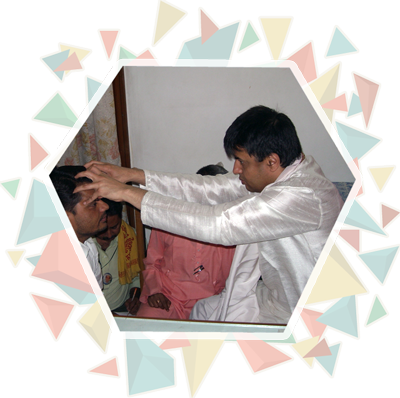 Please click here for another article containing details of various Dikshas.
Another article on Shaktipaat Diksha is listed here.
Diksha is a unique and rare process of making the life of a disciple more pure, more enlightened and more successful. Generally a human being remains under the sway of bad karmas of past lives which do not allow him to make the desired level of progress in spite of hard work and sincere efforts.
In such cases nothing can work better than Dikshas to remove the baneful effects of past Karmas and propel a Sadhak onwards on the path of success. Just as a cloth has to be washed thoroughly to free it of stubborn stains similarly Diksha is a method adopted by a Guru to free the disciple of his mental, physchological and physical drawbacks so that he could make good progress with a free mind in the spheres of spiritualism and materialism.
Diksha is the foundation of a disciple, fuel of the spiritual life, completeness of the mind, basis of the fusion with Shiva and the path to reach one's destination.
This type of soul has three shackles-body, age and pleasure, which can be completely subdued by the help of Diksha. New energy can be transferred into the Sadhak, thus enlightening him and helping him in the success of Sadhnas and the realisation of God.
Diyate Gyan Sadbhavan Shiyate Pashu Bhaavana,
Danshapan Sanyukta Diksha Teneh Keertita.
i.e. The act, by which teachings are given and by which all kinds of animal instincts are demolished, which is granted by Gurudev in charity is known as Diksha.